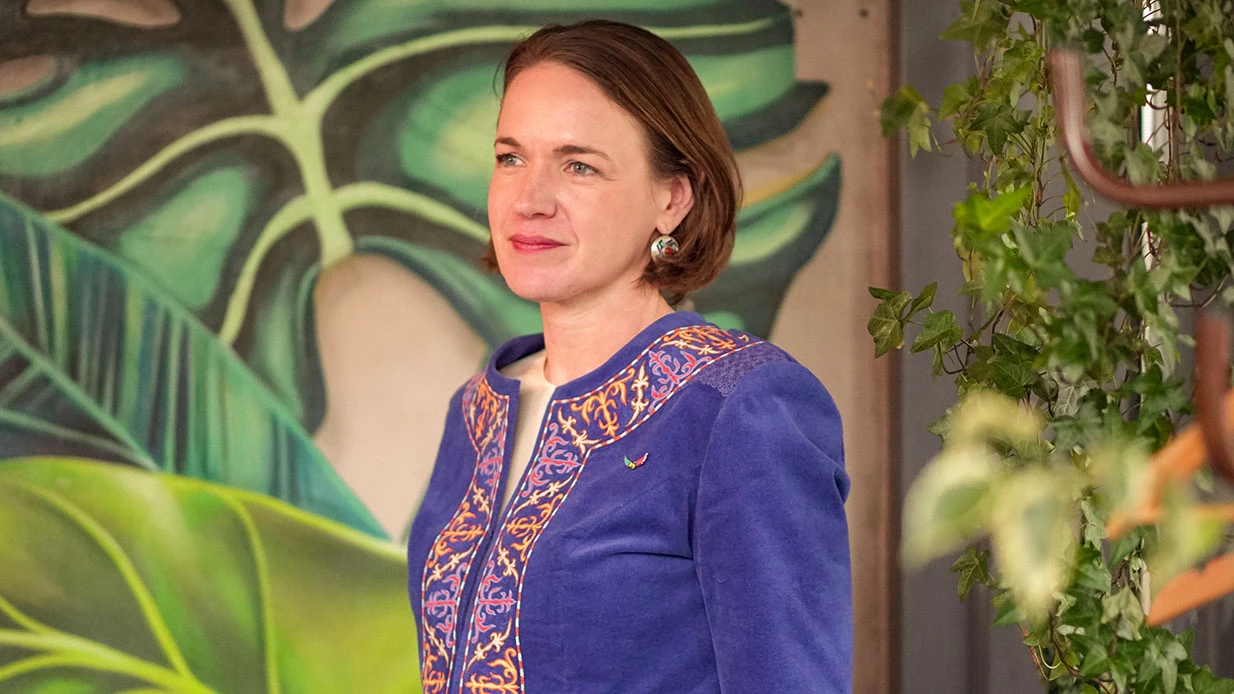 CAREERS
Caroline Savage, U.S. Consul General in Almaty: "When women succeed, so does the state"
Caroline Savage, U.S. Consul General in Almaty, told Manshuq about her work and career and about the U.S. Consulate General in Almaty.
I was born and raised in Wauwatosa, Wisconsin. My father was a big history buff and my mother worked as a journalist in London and South Africa in the 1970s, before I was born. It was my parents who encouraged me to take advantage of the opportunities life gave me – for example, before my last year of high school I went to Yakutsk for the entire summer as part of an exchange program. It was a wonderful experience!
I lived with a Russian family, learned Russian, and traveled around the Sakhalin Region
This trip marked a turning point in my life and make me want to become a diplomat.
After that trip, I studied diplomacy at Georgetown University. I then went to study in Russia for a year, in St. Petersburg and Moscow, which I wholeheartedly fell in love with. That year I worked as an English teacher, lived with two host families, and my interest in learning about the development of the former Soviet republics grew. I worked in several countries of the former Soviet Union – Belarus, Azerbaijan, and Russia – and in each my knowledge of the Russian language, which I had studied for years, helped me considerably. When the opportunity arose to come to Almaty, I finally got my dream job.
The U.S. Consulate General in Almaty is the only one in Central Asia. As Consul General, I oversee more than 400 employees, including about 65 Americans and 360 Kazakhstanis.
Our responsibilities and areas of operation include three key domains:
Security.
We continue to support our deep and longstanding security cooperation with Kazakhstan that we have maintained for more than 30 years.
Economy.
We have various projects aimed at expanding regional connectivity across Central Asia, particularly in trade and energy. We also focus on improving the business climate to attract more domestic and foreign investment to Kazakhstan. Our programs have a focus on entrepreneurship, especially the economy and women's empowerment.
Cooperation with civil society and the media in Almaty and beyond.
We work with the media to increase engagement in investigative journalism. The English language course for journalists is in great demand. We also pay special attention to combating misinformation, which is an acute problem today.
One of the top priorities for U.S. foreign policy is gender equality and women's economic empowerment. Of course, this is important to me personally, as a woman diplomat. In Kazakhstan, I have been especially pleased to meet so many amazing women working in business, the artisanal sector and state-owned enterprises. According to a number of studies, women are actively involved in the development of the economy and in the country's economic life. That is, when women succeed, so does the state.
In October, I had an opportunity to attend the Born Nomad festival in Turkestan. I think it's an example of a great public–private partnership that brought people together for a worthy cause. It was interesting to talk to women artisans from all over Kazakhstan and learn about their work, and about how this forum and festival are helping them find the connections they need and present their beautiful products to the global marketplace. I always enjoy learning about the culture of Kazakhstan, and in this sense, meeting people in person is priceless. In February, I had a chance to give a presentation about Black History Month at AlmaU. I was positively surprised by how engaging our discussion was – the students demonstrated excellent knowledge of history and understanding of contemporary challenges, and in our discussion they touched on complex and controversial issues.
Of course, during the pandemic we all had to become stronger and endure a lot, and the resilience of Kazakhstanis, which comes so naturally to them, is unrivaled. I am grateful to be surrounded by people with such a strong spirit. Speaking of drive, I also often think of the enthusiastic students I met, and the women enthusiastically engaged in their craft.
For example, this new camisole you see on me was made by Bota, an amazing craftswoman
She was taught by her parents, which also embroider. She now owns a small business and works from home – what a surprise it was when I found out she was a mom of four preschool-aged children! I admire her commitment to working, sharing her creativity with the world, and raising several kids at the same time. Many of us worked from home during the pandemic and know how difficult it is to combine family and work life. But at the same time, I think we now have become a little more empathetic with each other
I just arrived here in Kazakhstan in August, and I think it's a little premature to form any judgments. The last six months have been eventful – the January tragedy has had an impact on all of us. I would like to extend my condolences to all the victims and their families. We support the intent of President Kassym-Jomart Tokayev to resolve the issues that were uncovered during the tragic events.
I came to Kazakhstan with my husband and our two children, and our family has been welcomed and supported every step of the way. Our first few months here have been wonderful, and I am very grateful for that. I have a very demanding job, but I also try to remember to look around and enjoy what a beautiful place I live in.
We've explored many places in and around Almaty, but I especially love the Terrenkur path – we are lucky to live very close to it. I think it's a truly meditative place, and I loved watching the change of seasons here. I often walk there alone or with my husband and our children. I was worried that the winter in Kazakhstan would be hard for us, but we loved it – we had a lot of skiing and skating. I was also thrilled with our hike to the frozen Butakovsky waterfall. I'm looking forward to spring to continue hiking, explore new places and trails, and travel. I have already visited some sights, such as the Tamgaly petroglyphs and the Mausoleum of Khoja Ahmed Yasawi. It's hard not to feel strong emotions in these places because of how saturated they are with history. The history of Kazakhstan is very interesting, and I would like to wish the brightest future to your country.
Photographs by Irina Starovoytova